Excavator extension stick/arm
Application:
Extending excavator boom arm working range to do long distance dredging, deep digging project, such as foundation digging, underwater work
Excavator extension stick/arm image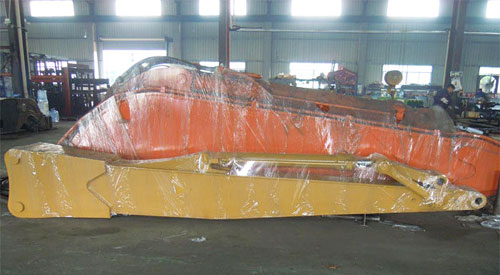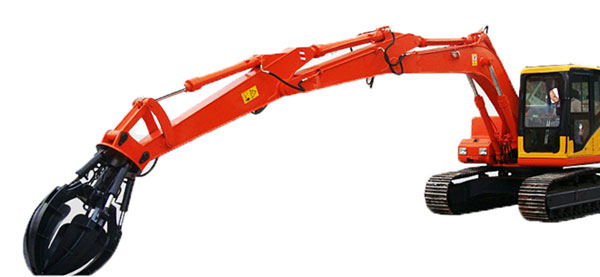 Characteristics
offer matchable bucket, linkage, bucket cylinder and pipeline to make a complete kit
Extension stick directly pin on end of stick,this design is more flexible and enables all boom and stick draw back for transportation, minial working radis for special working enviroment.
quick mount and dismount,
Inside of stick with stiffeners that maximumly distribute stress and prolong prdoct lifetime
Workmanship:
1, Our excavator extension arm/stick designed on base of force analysis, Product drawing generated by CAD, 2, we have professional digital cutting machine to cut plates in good shape, 3, skilled welding worker with more than 10years welding experience. inside of stick/arm with stiffener plates for reinforcment
when you face a situation that your excavator with standard boom arm only short 2-7m, and you don't want to buy a set of long reach boom arm. we have solution for this situation, extenstion arm/stick is perfect to extend your excavator working range. and quick mount and dismount.
Difference of excavator long reach boom and extension stick/arm
1, extension stick/arm is 3 pieces boom arm include of standard boom arm, excavator long boom arm is 2 pieces, they are different in operation. 2, 2 pieces long reach boom arm can bear bigger dredging force from bucket. 3, extension stick/arm length is limited,
Our product can well fit these excavator brand:KOMATSU,HITACHI, CATERPILLAR,SUMITOMO, HYUNDAI, KOBELCO, KATO, SANY,DAEWOO,VOLVO etc.

Parameter of extension stick
| Excavator weight | Extension Stick Length | Bucket Capacity(M3) |
| --- | --- | --- |
| 7.5 Ton | 2.3m | 0.25 |
| 12 Ton | 3m | 0.3 |
| 20 Ton | 4m | 0.45 |
| 21 Ton | 5m | 0.3 |
| 30 Ton | 6m | 0.45 |
| 40 Ton | 6m | 0.65 |
| 50 Ton | 7m | 0.8 |
Pictures of extension stick we made