High reach demolition boom/front
Application:
mainly applied in demolishing high-rise building,it is high productivity and safe to tear down building compare with traditional way
High reach demolition attachment image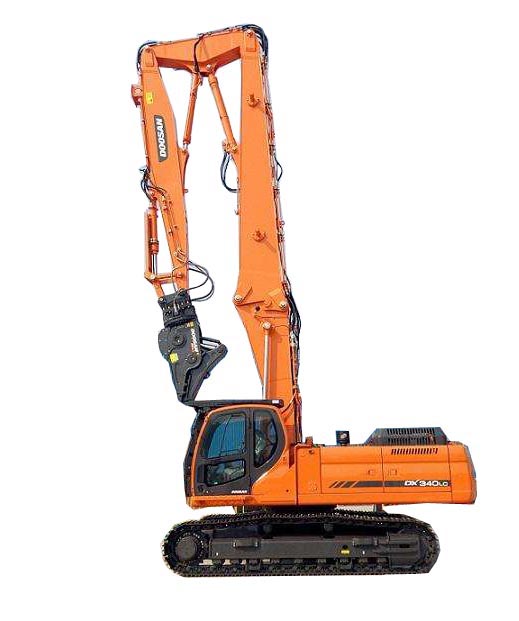 Charactaristics:
3 pieces booms are specially design for demolish high building that is more flexible in operation and safe for demolitiion personnell compare with traditional demolition techniques
It can be fitted with hydraulic shear, hammer, cutter, and crusher etc demolition attachment
Modular joint is available, quick mount and dismount boom arm for transport need, and it can also be converted into long reach booms
Camera and dust suppression system is optional to install.
Workmanship:
1,High reach demolition attachment designed on base of structure force analysis and efficience of excavator productivity, product structure simulated extensively by computer software. 2,we have professional processing equipment, such as CNC flame cutting machine, reeling machine, bending machine, shot blasting machine etc equipment, 3,skilled welding worker with more than 10years welding experience. 4, we adopt CO2 gas shield welding 5,welded product tested by Ultrasonic flaw detecting.
Our product can well fit these excavator brand:KOMATSU,HITACHI, CATERPILLAR,SUMITOMO, HYUNDAI, KOBELCO, KATO, SANY,DAEWOO,VOLVO etc.

We provide complete Package include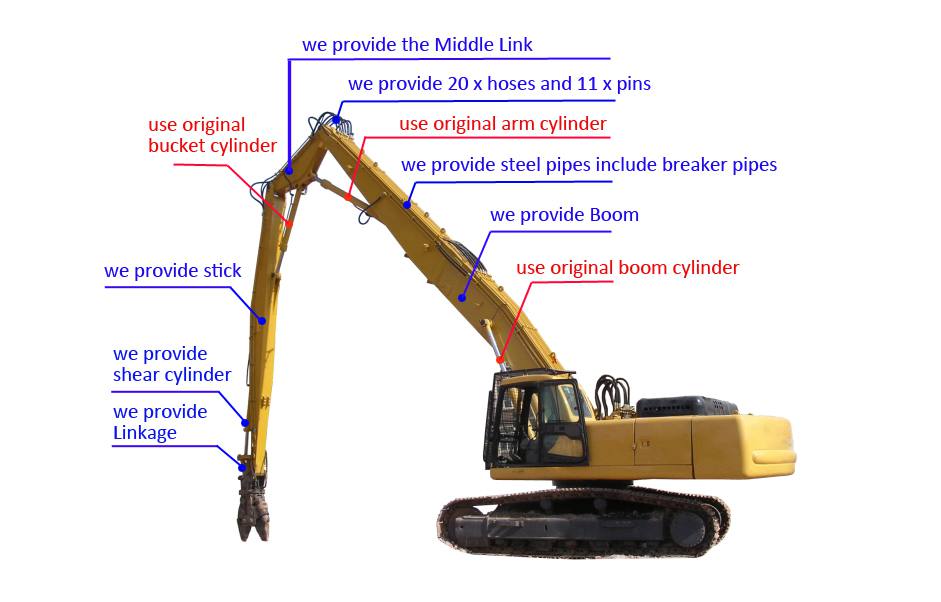 Parameter of high reach demolition attachment
Excavator Operating Weight(Ton)
12T
20T
22T
30T
35T
40T
45T
Total Length of Demo Booms
12M
14M
16M
18M
2M
2.2M
2.4M
Limitation Weight of Shear
under 0.8ton
under 1.5ton
under 2ton
under 2ton
under 2ton
under 2ton
under 2ton
Overall Height
3M
3.1M
3.16M
3.29M
3.29M
3.42M
3.42M
High Reach Demolition Boom arm package we produced

16m high reach demolition front for R210 excavator

16m demolition boom arm for JS235 excavator, modular boom design

24m demolition boom arm for ZX450

24m high reach demolition boom for PC450

SK480 25m demolition boom arm
Document
Other product