Excavator long reach boom arm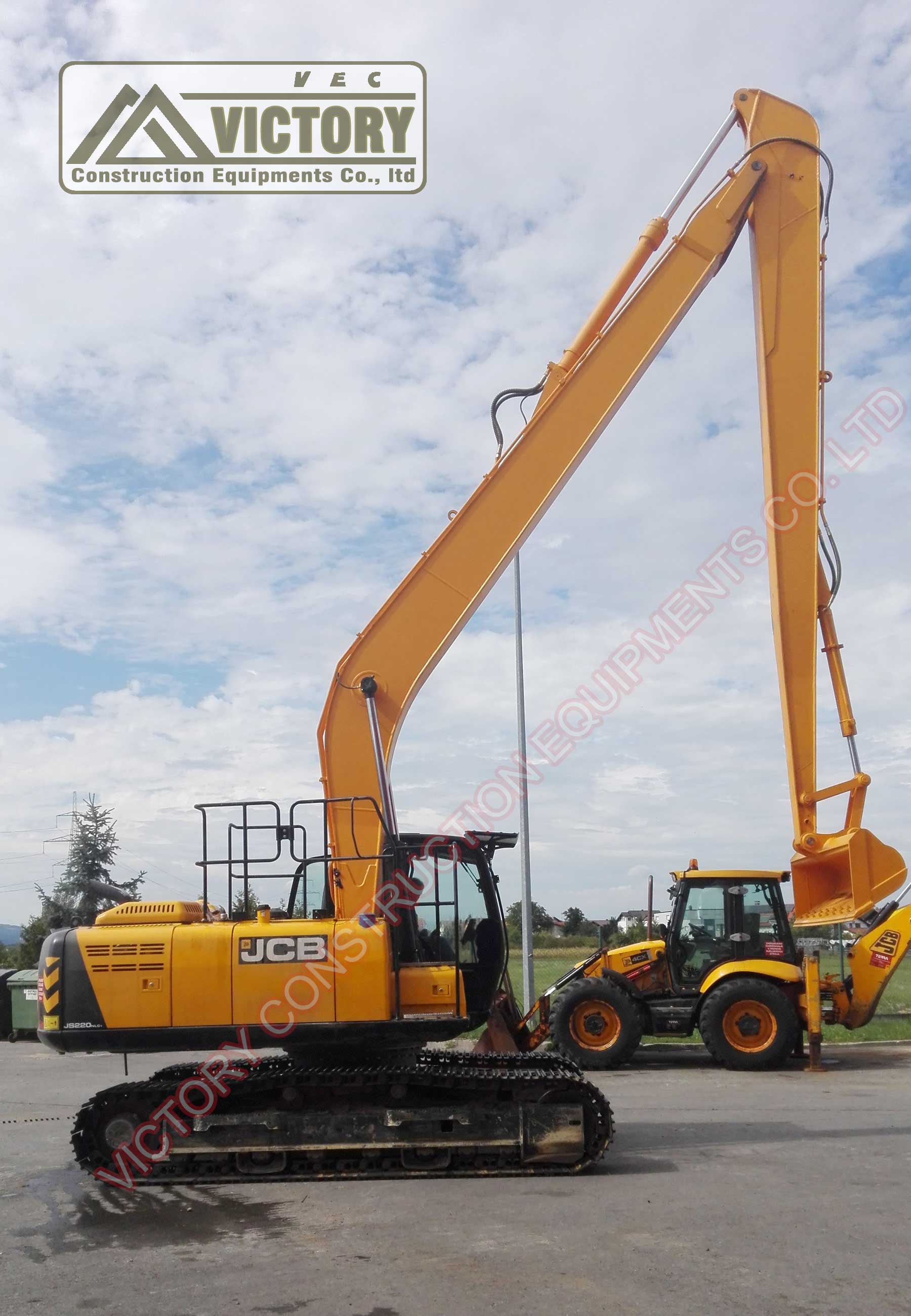 Application:
Excavator long reach boom arm is special-purpose attachment for deep and long distance digging in sand and gravel pits, slope forming, settling banks or cleaning ponds, drainage etc.
Characteristics:
Reinforced design for high stress areas on long boom stick after scientific FEA(Finite Element Analysis)
All hydraulic pipelines and lubricating pipelines are after Pickling and phosphating process
Inside of long boom arm with stiffeners for reinforcement that highly increase product lifetime
Brass bushes for boom arm
High quality cylinder, and hoses
Mature steel processing & welding method
offer a wide variety of attachment for option, such as mud bucket, tilt bucket etc.
Workmanship:
Long reach booms are designed on base of lever principle and precise calculation and simulation by CAD software, all long reach boom product manufactured with professional digital cutting equipment to cut steel plate, and beveling edge before welding, matured CO2 protective welding, reinforced on hinge part, 2 layer painting
Our product can well fit these excavator brand:KOMATSU,HITACHI, CATERPILLAR,SUMITOMO, HYUNDAI, KOBELCO, KATO, SANY,DAEWOO,VOLVO etc.

Excavator long boom arm structure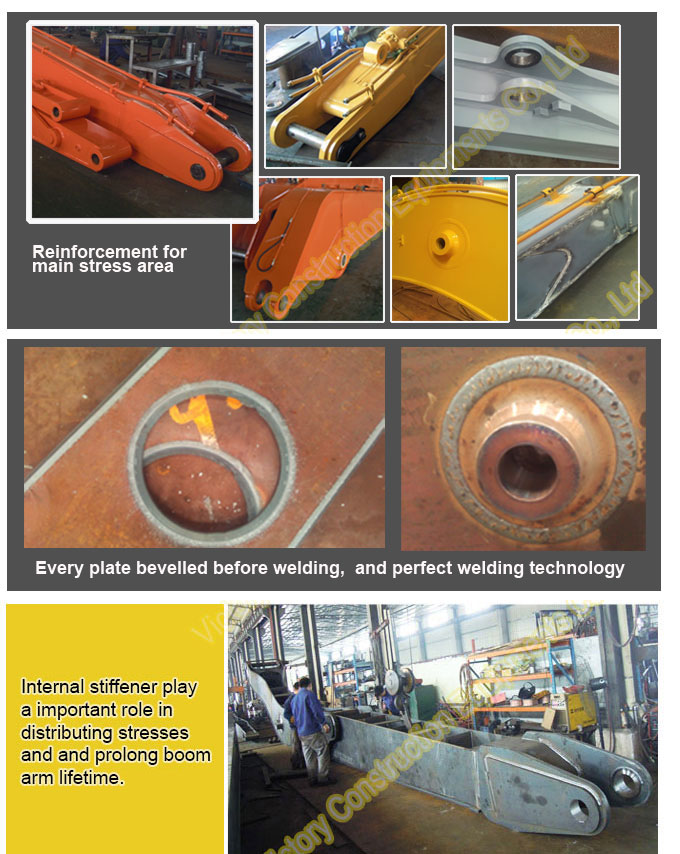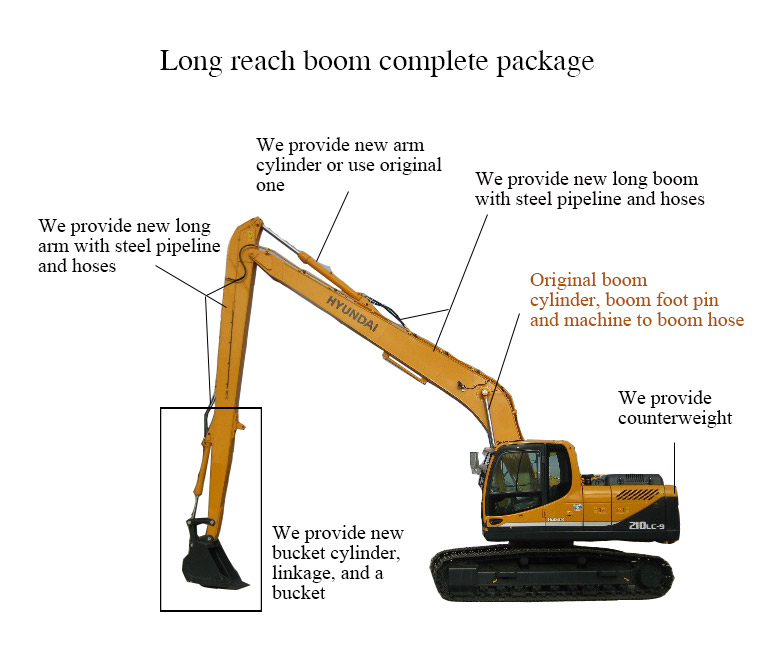 Working Range of long reach excavator Boom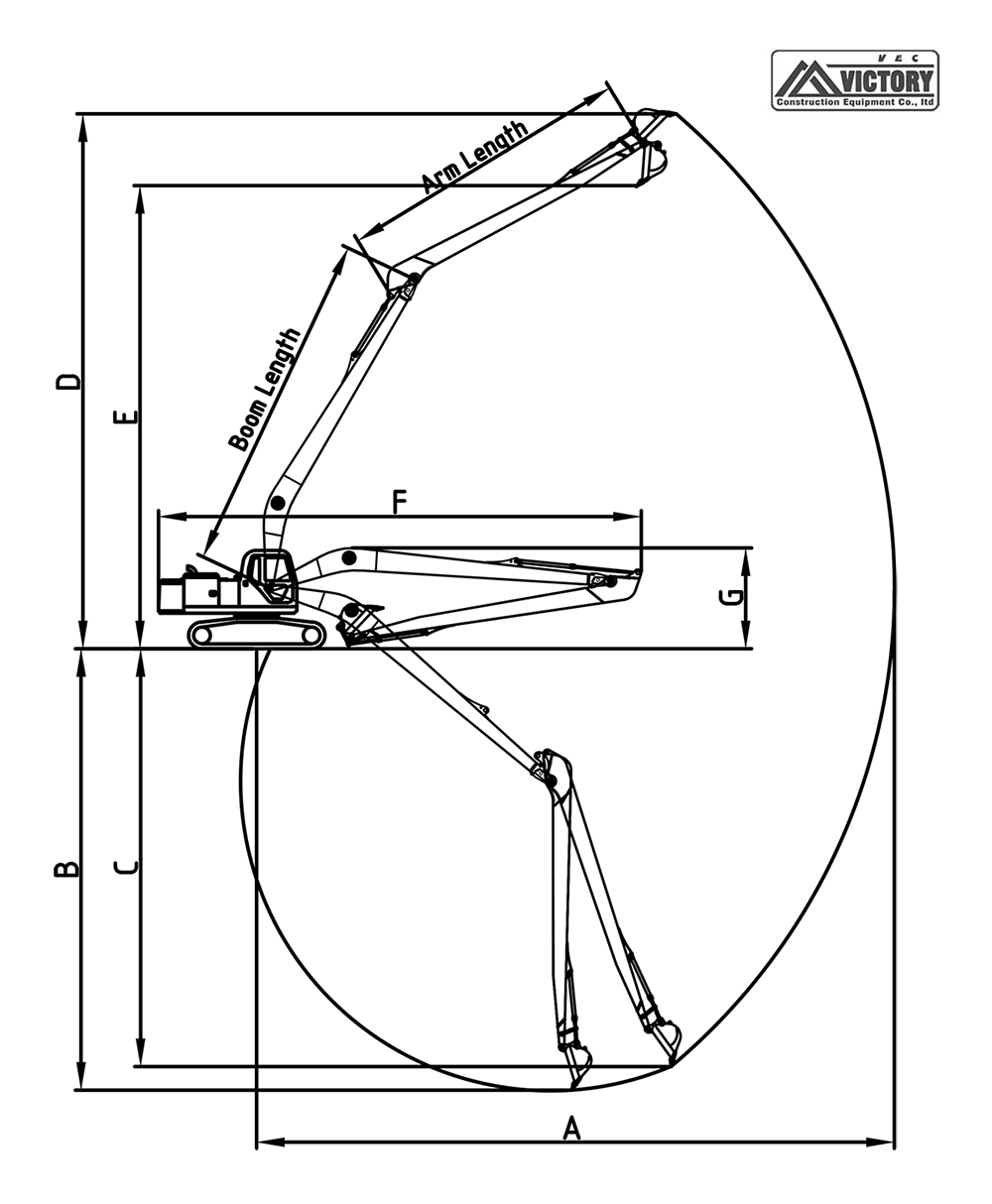 Parameter of Excavator Long reach boom
Excavator Weight (ton)
10-16
20-25
20-45
25-45
30-40
30-55
Total Boom Arm Length(M/Feet)
13M / 42.6''
15.38M / 50.5''
18M / 59''
20M / 65.6''
22M / 72.2''
24M / 78.7''
Weight (ton)
3
4.2
5.2
6
6.5
7
Bucket Capacity (M3)
0.3
0.4
0.5
0.5
0.6
0.6
C Max.Digging Height (M / Feet)
11.3M / 37.1''
12.6M / 41.3''
13.7M / 45''
14.9M / 49''
16M / 52.5''
17.3M / 56.7''
A Max. Forward Reach (M / Feet)
12.5M / 41''
15.1M / 49.5''
17.6M / 57.7''
19.6M / 64.3''
21.6M / 70''
23.6M / 77.4''
B Max. Digging Depth(M / Feet)
9M / 29.5''
11.4M / 37.4''
13M / 42.6''
15M / 49.2''
16.5M / 54.1''
18M / 59''
D Overall Height (M)
2.9
3
3.2
3.2
3.4
3.4
Excavator long reach boom arm we produced for clients

Two sets of CX330 18m long reach boom arm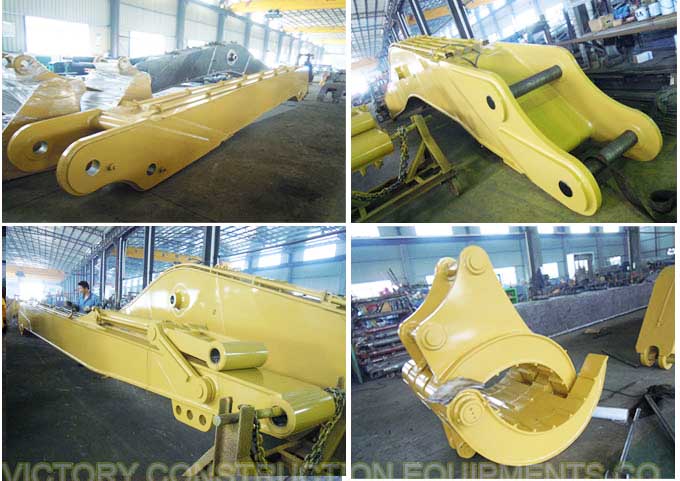 CAT390D 35m long reach boom arm with rock grapple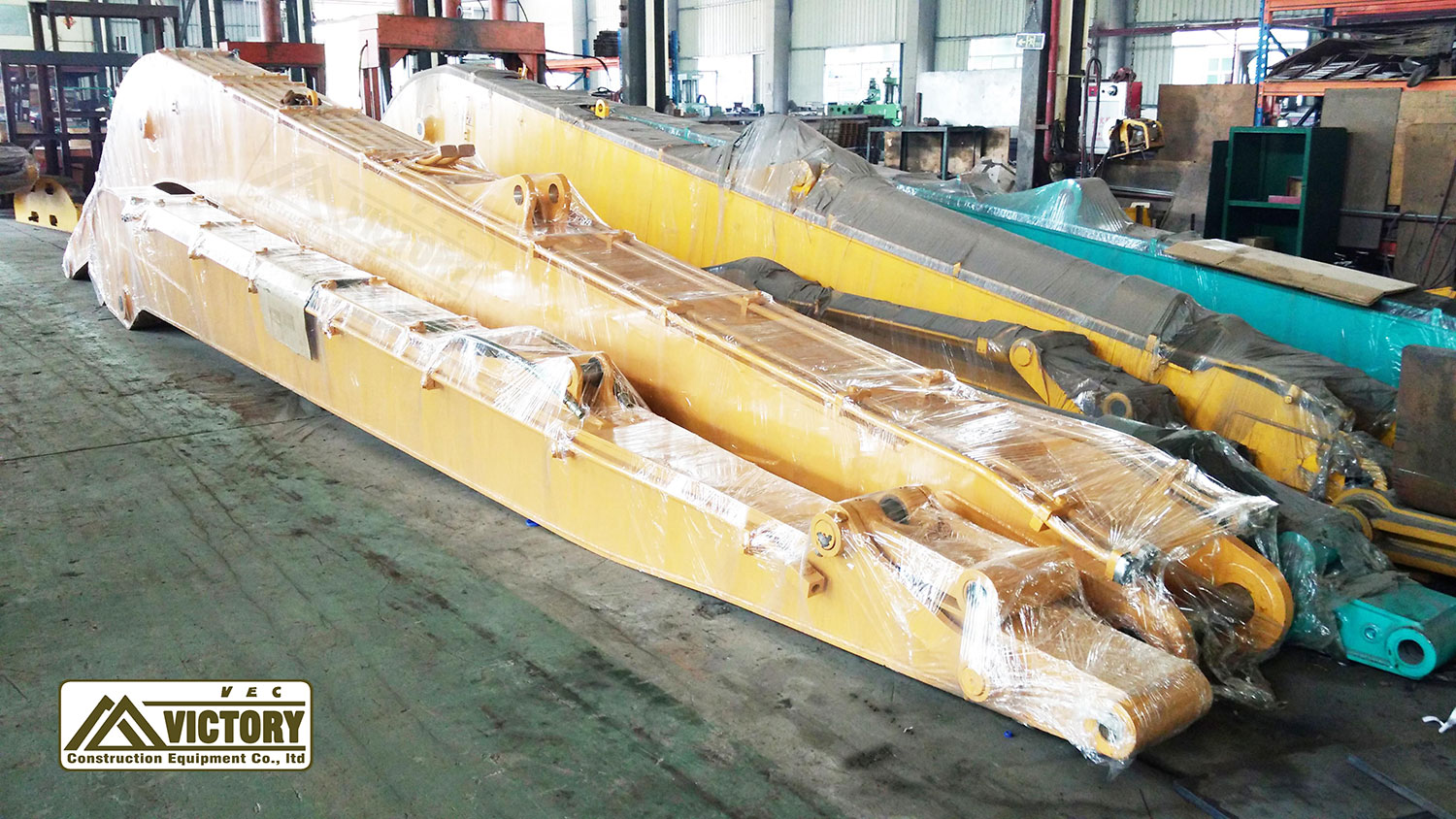 18m long reach boom arm for CAT324

20m long boom arm for PC800 excavator

EX350 18m long reach boom arm front

ZX130 13m long reach boom arm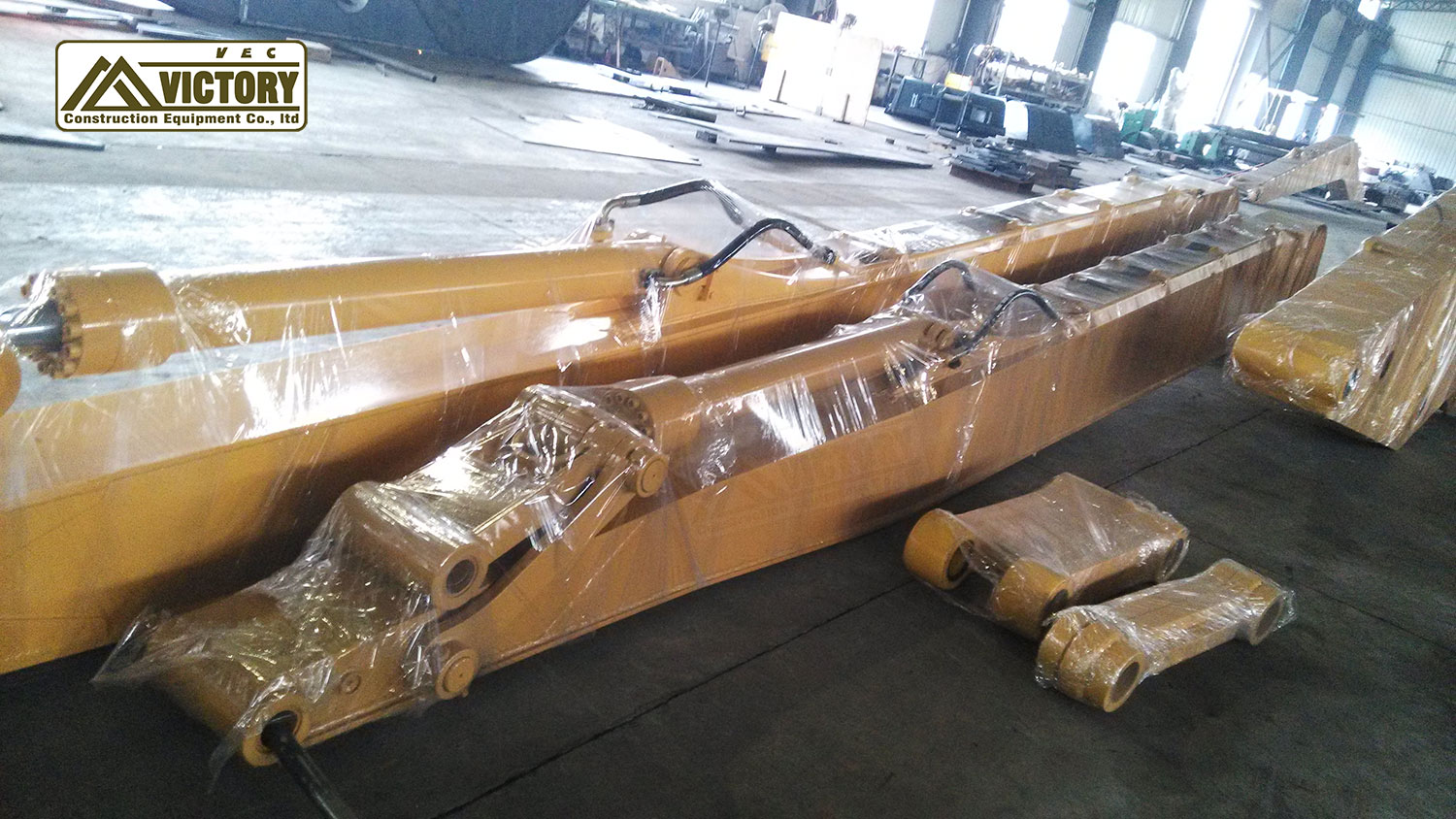 15.8m long reach boom arm for CAT323

19m long boom arm for PC400 excavator

22m Long reach booms kit for EC380 excavator
Documents
Other product